For some reason, when I my Google Pixel 6 Pro Android smartphone recently updated to Android 13, the Beestat app will no longer support rotating the from portrait to Landscape view.
Interesting. I uninstalled Beestat mobile app and then re-installed Beestat mobile app and launched it the first time, I got this message below.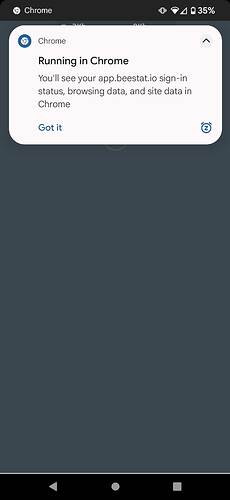 …which made me think "Hmmm… is the screen auto-rotate feature working for Chrome browser on my Pixel 6 Pro?" Yes, it does. Interesting…
What will happen if try to navigate to Beestat.io website in my Chrome browser on my Pixel 6 Pro, instead of launching the Beestat mobile app?
What happened, was that the Chrome Beestat website launched in full-screen after I clicked on "Connect my ecobee" button, and it displayed Beestat in full-screen, just like it does when I launch the Beestat mobile app. So, when launching it through Chrome by clicking on "Connect my ecobee", the screen auto-rotate feature DOES work, but when I closed the chrome browser and re-launched the Beestat mobile app icon / shortcut, then the screen auto-rotate feature still does NOT WORK again. Interesting…
Even more interesting… If I open it by click the Open icon below, then the screen auto-rotate feature DOES work, but again, If I launch the app from my home screen or app page, then the screen auto-rotate feature does NOT WORK. Strange…
[It wouldn't let me add the second screenshot

]