How do you feel about the new update?
Like it
Dislike it
It's a little confusing
If you're reading this you may have some interest in the recent change to beestat that replaces scores with metrics. This is a big change and I hope you'll take a few minutes to learn about the feature and share any feedback you have.
Important: This feature might be buggy! I prefer to vet releases more carefully to reduce impact on beestat users. In this case, I've been away from beestat for six months and aiming for perfection is blocking many other things from getting done. Please be patient over the next few weeks while improvements are made.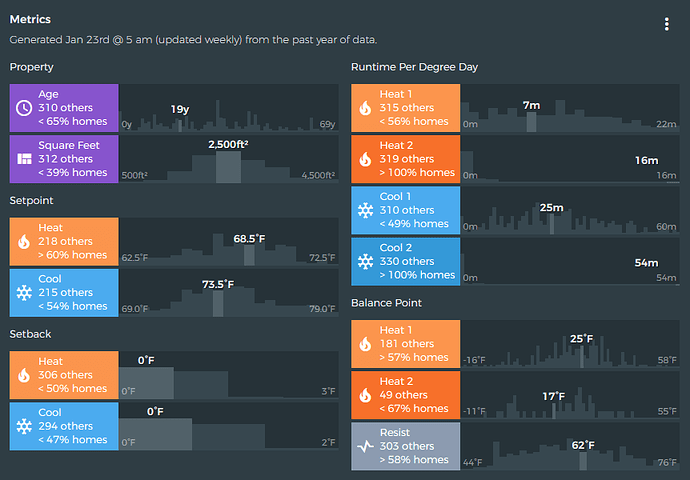 What was wrong with the scores?
When scores were originally developed, I came up with a few metrics that I thought were important and plugged them into a home-grown formula that would spit out a number from 0-100. It performs reasonably well, but leaves a lot to be desired. There's no explanation of how your score is calculated, and you can be penalized simply for wanting to be comfortable or having a home of a certain size.
Why are metrics better?
Metrics are everything scores should have been. They take all the things that were part of your score calculation (and more) and expose them directly to you. It's all facts and they allow you to see exactly where you stand against other ecobee owners.
What do the metrics mean?
Property
This simply shows how your home's age and size compares to other ecobee owners in your comparison group.

Runtime Per Degree Day
This metric normalizes runtime against the outdoor temperature (degree days) so you can directly compare across climates. If it's confusing, just know that lower is better.

Setback
The difference in your home vs away setpoints. Determined just by your current schedule.

Setpoint
Shows the average heat and cool setpoints over time.

Balance Point
The outdoor temperature at which your indoor temperature does not change. Heat pump users will enjoy this for their heating, but all users can still see the resist value.
Will there be more metrics in the future?
Probably! I'm not sure when or what, but I would love to expand this to give you tons of relevant information.
Why does it seem like there are fewer other thermostats to compare to?
The new metrics are more aggressive about what a valid comparison is. This update requires that the system type and stages for both heat and cool match. Previously, two stage systems would actually get compared to single-stage systems which was incorrect.